September 8, 2021
Your generosity enabled first-time experiences and the personal growth that comes with them. Thanks you, the Rehabilitation Centre for Children's was able to offer Summer Camp this year. Camp encourages youth to step outside their comfort zone and to try new things.
When the opportunity came up to fish on the bank of the Red River in Selkirk, eight amateur anglers jumped on it. Seventeen-year-old Zach is one of the youth who benefit tremendously.
"Summer Camp is a life saver," says Zach's mom, Karen. "Zach has been going for several years and he looks forward to it all year long."
Finding recreation opportunities can be challenging for parents of children with disabilities. Summer Camp helps fills that void.
"We caught a plastic bag and a stick, but no fish," laughs Hailey Perchotte, Recreation Therapist at the Rehabilitation Centre for Children. "Everyone was still so excited."
Every participant is paired one-on-one with a recreation support worker, or as they're called at camp, buddies. Carol Kehler, a physiotherapist with the Rehabilitation Centre for Children, says this model allows campers to build authentic relationships, creating confidence and trust.
"We meet everybody where they're at. Everybody's participation is at their own level," she says. "We talk a lot about edge and comfort zone, which means we acknowledge the edge of their comfort zone and we work on how can we provide an opportunity that challenges them a little bit, but not too much. It goes beyond the kids, too. Summer Camp enriches the lives of the entire family."
Eighty-six youth attended camp over six weeks this summer. With your continued support, more campers will make memories for years to come.
"Zach marks it in his calendar and it gives him something to look forward to," Karen says.
"When he arrives, everyone welcomes him with 'Hey! Zach's here!' and it truly feels like he's part of a group."
GET A SMILE. GIVE A SMILE! September 13-19.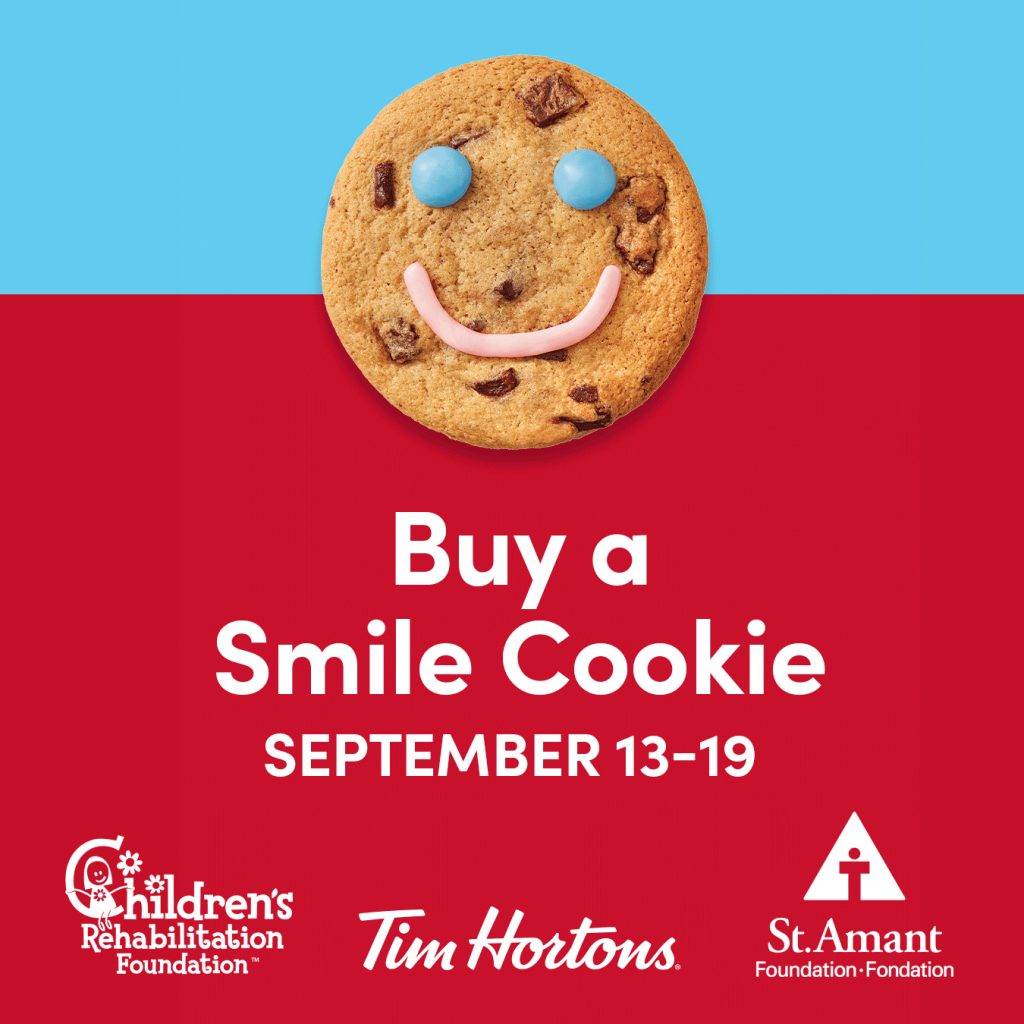 Every dollar raised from Smile Cookie sales at Winnipeg Tim Hortons supports Children's Rehabilitation Foundation and St.Amant Foundation. When you purchase a Smile Cookie for just $1, you are helping provide life-changing programs, services and equipment to Manitobans living with disabilities.
---
Share some smiles with friends, co-workers, clients or family! With a minimum order of two dozen, the Children's Rehabilitation Foundation will deliver Smile Cookies anywhere within Winnipeg from September 13-17. Order must be made by the dozen and be placed by September 15.
July 8, 2021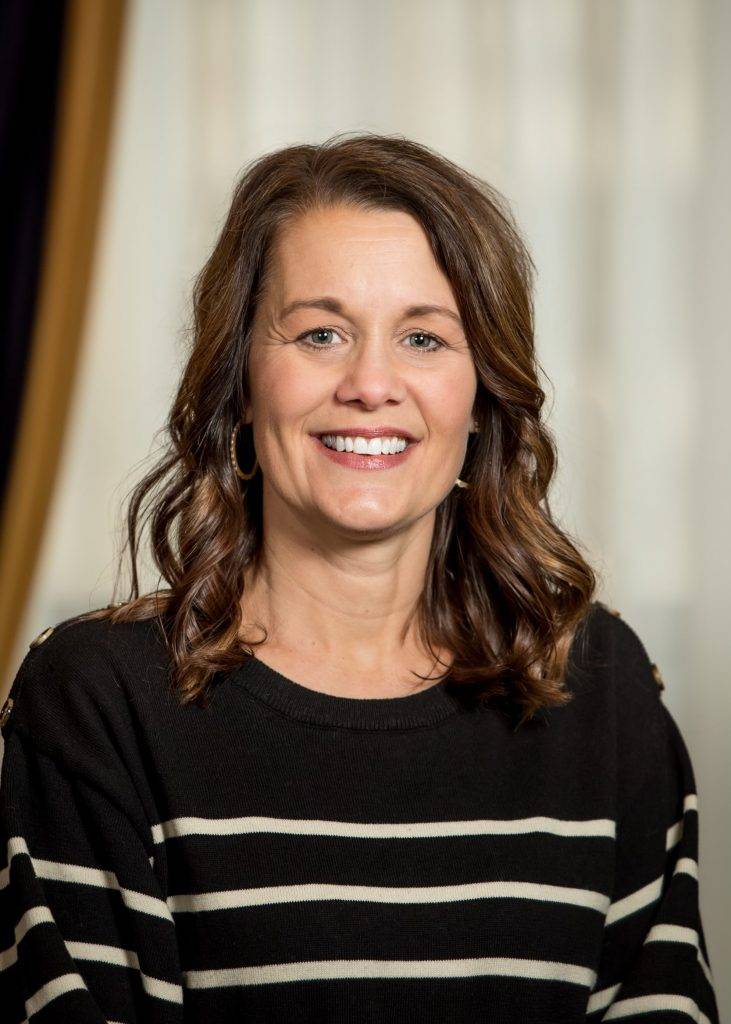 The Children's Rehabilitation Foundation's Board of Directors is pleased to announce Jane Kidd-Hantscher as the Foundation's new Executive Director. Kidd-Hantscher has replaced Christine Schollenberg who recently retired after 21 years, eleven of which she led the organization.
Kidd-Hantscher's career spans nearly three decades and she brings varied experience in the private, public and non-profit sectors to her new role. She is a passionate leader and fundraiser, with a proven track record of advancing initiatives, building partnerships and achieving results.
"I am honoured to have been given the opportunity to lead the Children's Rehabilitation Foundation," said Kidd-Hantscher. "Children and health are my passions. I am excited to build on the exceptional foundation that exists and advance the organization to help improve the lives of as many children as possible."
A born and raised Manitoban and mother of three, Kidd-Hantscher joins the Foundation after spending the past six years as the Director of Marketing & Communications for CancerCare Manitoba Foundation. Prior to this, she worked for 23 years with Centra Gas and Manitoba Hydro in a variety of positions. She has a communications undergraduate degree and a master's in public administration.
"Jane is an accomplished leader with a diverse background," says Peter Garagan, Chair of Children's Rehabilitation Foundation's Board of Directors. "She is known for her collaborative approach and strong work ethic. We are thrilled to have her join the Foundation and excited to see what our dedicated team will accomplish under her leadership in the years to come."
For more information contact:
Jessica Cable, Communications and Marketing Coordinator
Work: (204) 258-6703 • [email protected]
April 29, 2021
Our waitlist of children needing specialized bikes is growing quickly.
With the cancellation of many recreation programs, bikes are more in demand than ever before.
A ride down the street with family or through the gym at school with friends has immense physical and therapeutic benefits for children living with disabilities. Most importantly, bikes give children freedom and allow them to have fun!
The Children's Rehabilitation Foundation works directly with physiotherapists and occupational therapists at the Rehabilitation Centre for Children to purchase bikes children can ride safely and successfully. Every bike is custom built to meet each child's specific needs and can include everything from foot straps and seatbelts, to specially designed seats and head supports.
The bikes on our waitlist range currently from $1,500 to $6,400.
If you're interested in buying a bike for a child, please contact Adell Gauthier (204) 258-6702.
March 30, 2021
Rehabilitation Centre for Children's LIFE Program is a lifeline for families during the pandemic
Logging on to Saturday Night for Teens from his computer is a big change for Daniel. Normally he'd be walking into the SSCY Centre with 15 of his closest friends for the bustling, parent-free hangout. Yet Daniel is just as excited to chat and play games with friends from his living room because these few hours provide a crucial break from the isolation he has felt this past year.
"The [virtual] programs have been a lifeline for us because we're keeping him at home. It's the only time he can see friends," says Daniel's mom, Cathy.
COVID-19 has greatly disrupted the lives of children living with disabilities, many of whom are at a greater risk of developing life-threatening complications. Social isolation has been particularly hard on the children we support.
"Daniel has Down syndrome and there have been reports of increased risk of severe outcomes if he contracts it. After we saw that news in January, we made the heartbreaking decision to take him out of school and he has not been back," explains Cathy. "It has been tough mentally on him, but if he didn't have this [program] it would be awful and I don't know where we would be at."
Since the early days of the pandemic, Rehabilitation Centre for Children LIFE Program coordinators have worked tirelessly to ensure Saturday Night for Teens and other recreation programs—from music classes to yoga sessions—are available to families virtually.
"We've learned a lot in terms of how to provide quality programs to as many participants as possible while maximizing the interactive piece," explains Carol Kehler, a physiotherapist with the Rehabilitation Centre for Children.
LIFE Program's Spa Day, held annually at SSCY Centre, was revamped into a gift box and delivered to households. Fun in the Kitchen classes over Zoom embraced the chatter around cooking a meal, discussing everything from the shape of their cookies to inventive toppings and add-ins that make their creations extra special.
"We're sharing ideas and thoughts. It's more work to facilitate but it's all the same stuff we do in person," says Kehler. "Relationships are essential to everything we do. It would be hard to imagine delivering programs and not keep that a central component."
Nineteen-year-old Brett has attended LIFE Programs for close to a decade and that hasn't stopped during the pandemic. His mom Cheryl says the virtual programs have not only given him something to look forward to, they've also helped support his independence during an unpredictable time.
"A huge piece is the growth in him being a bit more mature and independent to do these classes on his own. I used to have to be beside him, but he really has matured and he focuses on these calls. I think it's because it's all his. It has nothing to do with me," she says.
The LIFE Program is preparing for the return of in-person programming, welcoming campers back to Sun and Fun Day Camp under current public health orders. With the success of virtual programming, specifically the increased accessibility for families, it will continue and even grow.
"Our population, many of them struggle with meaningful relationships, so it's important we facilitate that," says Kehler. "Our hope is that they can navigate a world that is always changing and relationships contribute to that."

LIFE PROGRAMS ARE ONLY POSSIBLE THROUGH YOUR SUPPORT—GIVE TODAY!