Tihuk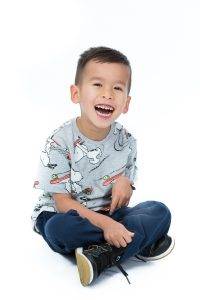 Few things make six-year-old Tihuk happier than a bike ride with his friends. The thrill of riding a bike for the first time is a rite of passage for most children, but Tihuk's parents weren't certain if their son would ever experience that joy.
Tihuk has cerebral palsy. It affects his balance and coordination, making it difficult for him to sit upright on a traditional bike seat and steer on his own. Buying a bike off of the store shelf wasn't an option.
But today, through the generosity of donors like you, Tihuk has a bike of his own. The Children's Rehabilitation Foundation funded an adaptive bike for Tihuk that was built to his specific needs. He can now cruise down the street with his friends and family, and take part in gym class alongside his classmates. Tihuk's adaptive bike gives him the freedom to explore and discover the world around him.
"When you help one child, you're not just helping that one child; you're helping the entire family," say Tihuk's parents, Sumi and Korakan Kimanivong. "They say it takes a village to raise a child. Well, it takes about five villages to raise a child with a disability. We have our family and we are so happy that we have the Children's Rehabilitation Foundation. I can't image how much harder it would be without them."
Watch Tihuk's story here: