Stories, Updates and More. Our Latest Newsletter is Here!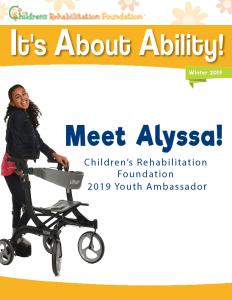 Meet 2019 Children's Rehabilitation Foundation Youth Ambassador, Alyssa! 
When 14-year-old Alyssa White enters a room, she grabs everyone's attention with her amazing smile and huge energy! Saying she has a positive attitude is an understatement. At birth Alyssa was diagnosed with spina bifida. Alyssa first visited the Rehabilitation Centre for Children (RCC) when she was 3-months-old. Since that initial visit, therapists and technicians at the Rehabilitation Centre for Children's Prosthetics & Orthotics department and spina bifida clinic have helped her reach her full potential.
"RCC has been there for us since she was a baby providing her with her ankle-foot orthosis, always fitting us in to get a repair done or the many rush new ones needed after the 12 or so surgeries. Without them she would not have her independence with mobility," said Alyssa's mom Charlene, "Also, for being our home base for spina bifida clinic. It's so convenient to see all your specialists in one visit. It also does wonders to see the other families, and know you're not alone."
As the 2019 Youth Ambassador for Children's Rehabilitation Foundation, Alyssa will spend the year representing the children and youth who benefit from the equipment, programs and services provided by the foundation and the RCC.